Corbyn, nieuwe Labour voorzitter
Afgelopen zaterdag is Jeremy Corbyn (wikipedia) verkozen tot nieuwe leider van de Britse Labour partij. Eerder las ik dat hij een echte 'ouderwetse socialist' was met ideeën die 30 jaar geleden of daaromtrent gebruikelijk waren. Daarna kwam natuurlijk New Labour van de heer Tony Blair (liar and a cheat).
In vele commentaren op zijn overwinning komt terug dat Corbyn in al die tijd eigenlijk zijn inzichten niet gewijzigd heeft, hij is al vele jaren 'member of parlement' maar onder bijvoorbeeld Blair heeft hij nooit een verantwoordelijke positie vervuld.
Die vermeende oude ideeën zouden hem, zo wordt, ook in sommige linksere kringen (bijv. door Blair, en (spin) Blairites), geschmierd 'unelectable' als minister president maken.
Bij dat beeld van iemand die dezelfde ideeën behoudt moest ik denken aan de lang geleden voor school gelezen 'levenslooptheorie' van de in Duitsland geboren psycho analyticus Erik Erikson. Daarin geeft hij voor de diverse levensfasen van een mens karakteristieken, preoccupaties en deugden weer. Voor de late volwassenheid fase geeft Erikson als motief 'integriteit versus wanhoop' en als deugd 'wijsheid'. [? En wat is het voor onze 'middelbare volwassenheid' ? Voor kort overzichtje van Erikson's gedachtengoed zie hier (wikipedia)]
Misschien is het dus niet zozeer een diskwalificatie dat Dhr Corbyn na 30 jaar grotendeels dezelfde (linkse) ideetjes heeft behouden als wel een kwalificatie, en een kenmerk van een integer mens (hallo Tony, Mark).
De volgende verkiezingen in Engeland zijn pas in 2020, Cameron is net in mei herkozen. Maar met Corbyn als leider van Labour komt misschien, het valt allemaal nog te bezien, de beweging tegen het heersende klimaat van neo-liberalisme, austerity-geobsedeerde, toenemende inkomensongelijkheid, kleinere rol overheid, roof-kapitalisme serieus op gang. En kunnen traditionele/nieuwe linkse, sociaal-democratische partijen misschien weer komen met een coherente, authentieke/inspirerende, uitvoerbare visie. De tegenbewegingen tot nu toe; 'indignados', 'anti-globalisten', Podemos, Syriza, Piketty (en onze eigen Joris Luyendijk!) etc. zijn nog niet sterk genoeg gebleken om de heersende neo-liberale tijdsgeest te doen keren.
Misschien swingt de pendule (eindelijk) weer eens de andere kant op !
Om voor uzelf te zien of Corbyn inderdaad dezelfde ideeën als vroeger heeft, en of dat inderdaad hopeloos ouderwetse, outdated opvatingen zijn of dat u misschien denkt 'hmmm daar zit toch wel wat in", hieronder 2 artikeltjes met een kort overzicht van Corbyn's opvattingen. In het Engels weliswaar maar dan kunt u beter vergelijken als we het in NL gaan bespreken, ooit eens.
– what-does-jeremy-corbyn-think in The Guardian van afgelopen zaterdag.
– the-jeremy-corbyn-policies-that-most-people-actually-agree-with- uit The Independent van afgelopen zaterdag.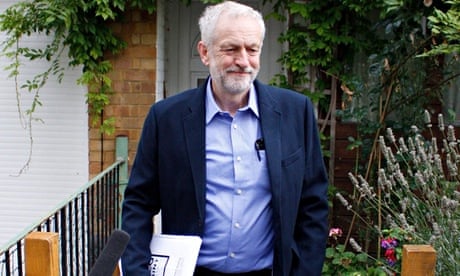 (PS. And we also got a new 'pappa', pope a year ago ! With, for the first time, the name 'Francisco'.
PS2. Jaaaa, die uitspraak van Churchill, waar we in Nl zo van houden, ken ik ook wel, nu ken je ook die van Erikson.
PS3. En Churchill noemde Ghandi ook een 'half naakte fakir'…)
— // —